Courtesy of
https://www.etsy.com/shop/BrightgemsTreasures
Celluloid has got to be one of my top favourite materials from our Bygone Era, and an excellent example of why to collect vintage jewelry.
Created in 1869 by John Wesley Hyatt,

Celluloid

was one of the first plastics ever made.

Celluloid is a semi-synthetic thermoplastic made from nitrocellulose and camphor. The earliest form of Celluloid was highly flammable, so in 1927 the nitrocellulose and camphor were removed and replaced by vinegar (making it less flammable).
Celluloid was widely used for a variety of items including jewellery, due to its versatility. Combs were made that resembled tortoise and necklaces, vanity sets, and other items were made to look like ivory (often referred to as 'French ivory'). This meant that everyone could own expensive looking items for much, much less!
Courtesy of http://theloveofvintage.wordpress.com/2012/03/30/alessonincelluloid/
A wide range of forms and designs of jewelry are available from carved bangle bracelets through to delicate celluloid
necklaces, brooches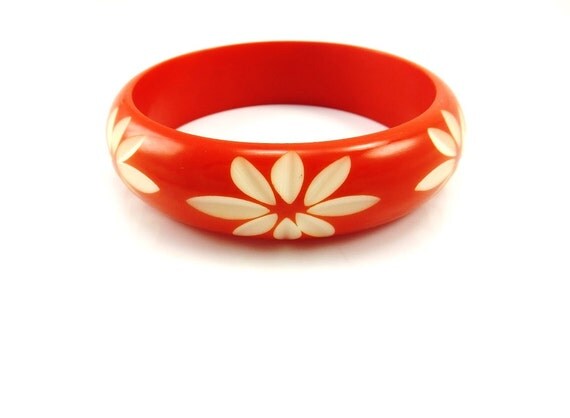 This fabulous tomato red and cream colored carved celluloid bangle bracelet is bright and fun!
Courtesy of https://www.etsy.com/shop/IfindUseekVintage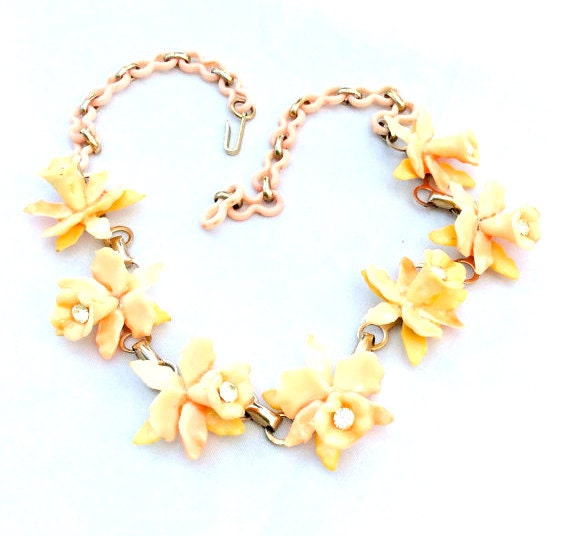 Elegant two tone necklace in the daintiest of colours and design. Each flower is linked by fold over links and individually riveted to the chain. The back of the necklace is a pale pink adjustable celluloid chain linked by gold tone fold over metal secured by a hook.
In good vintage condition
Approx 16 1/2" in length, 1" max width
Courtesy of https://www.etsy.com/people/OurBoudoir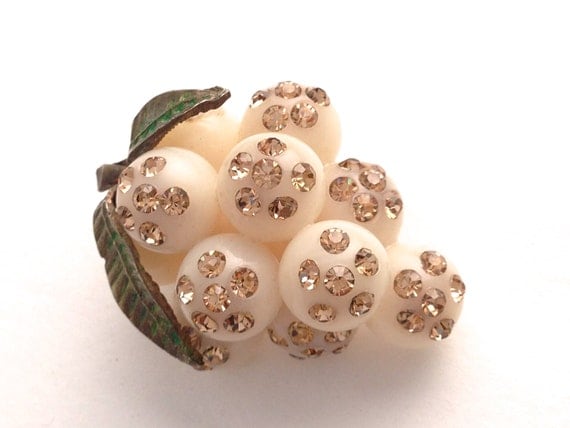 An unusual pin - Forbidden Fruit is the name given to the vintage jewelry collection of figural fruit pins made in Austria in
the 1950s. This beautiful bunch of grapes is cream celluloid embedded with really sparkly brown rhinestones. All stones are i
ntact and original. The stem and leaves are gold plated metal, the leaves have enameled or painted green accents. Some of the enamel has worn away a little in spots but does not detract from the look or beauty. With original pin back, secure with safety catch.
Featured in Anne Pittman's "Inside the Jewelry Box" book. The pin in the book is missing a leaf. The one I'm
offering one fully intact!
Size: 1 7/8" long x 1 3/8" wide and very dimensional at 3/4" deep
Condition: Overall excellent - very good vintage condition
Courtesy of https://www.etsy.com/shop/benjiboyvintage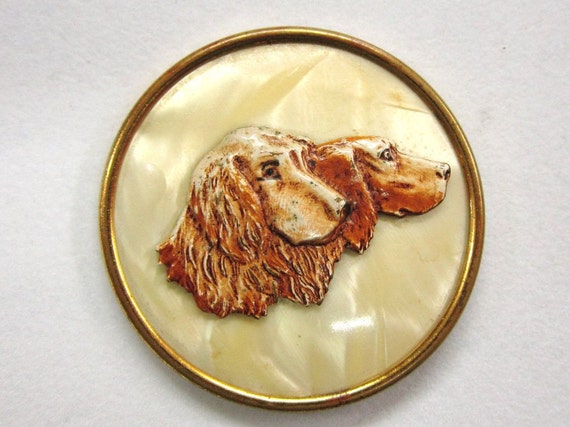 Vintage pin that shows two golden retrievers set against a pearlized celluloid background. Old pin circa 1940s, maybe a little earlier,
2 inches in diameter.
Courtesy of https://www.etsy.com/shop/COBAYLEY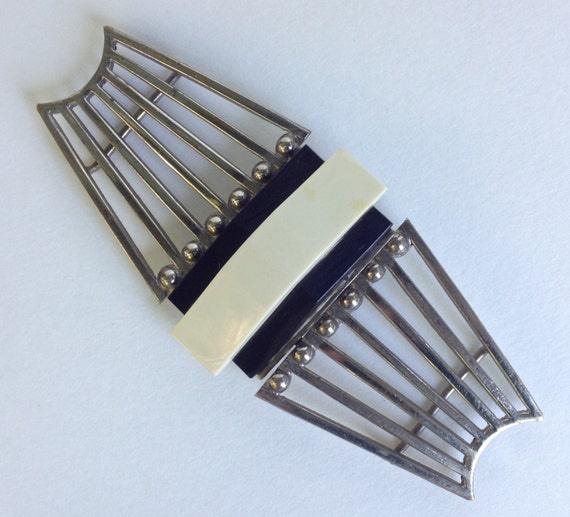 Art Deco Celluloid and Metal Belt Buckle
This classic 1920s piece is pure art deco design. Chrome silver linear double fan shaped accented with a geometric black and white center piece element made of some early thermo plastic, most likely celluloid. On the metal areas on either side of the celluloid center piece are a row of shiny silver metal balls.
This buckle could be the perfect accent added to a belt or a closure for a sweater, cape of jacket. This piece could also possibly be converted into a brooch or pendant.
https://www.etsy.com/shop/WhirleyShirley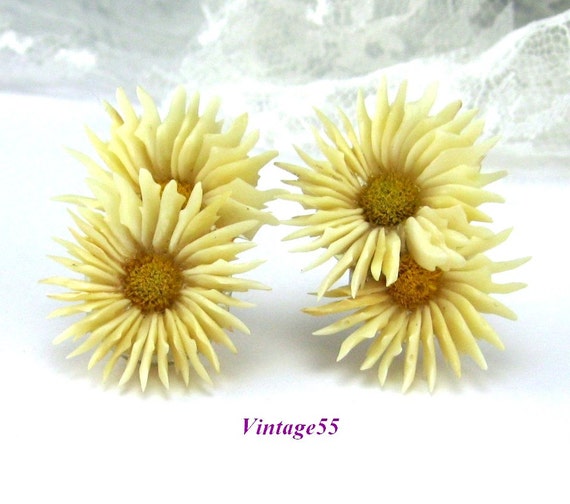 https://www.etsy.com/shop/Vintage55
Fabulous Double Daisy Celluloid petal earrings measure 1 3/8" tall, 1" wide.
Each single petal was hand glued onto the earring base.. each flower has a hard textured, and quite realistic carpel or pistil., which may also be celluloid.
Silver tone screw back earrings are glued onto a clear vintage plastic pad.