Hattie Carnegie was a fashion desi
gner based in New York City du
ring
the period 1920s - 1960s. She named herself Hattie, after her original trade as a milliner, and Carnegie after someone already successful, Andrew Carnegie. Many great designers made their name here working for Hattie - Jean Louis and James Galanos to name but two
Hattie Carnegie is particularly noteable for introducing the boutique style experience to the high end fashion market. She would design an outfit from head to toe - including hats, purses, shoes and costume jewelry to accessorise her dress and suit lines. She cleverly marketed her own in house products against the expected Paris couture - Chanel, Vionnet and Dior. Carnegie was extremely successful, but was also compassionate and was involved in charity work and patriotic duties. She was chosen to design the Women's Amry Corps uniform in 1950.
Hattie Carnegie designs are on display in t
he
Costume Institute at the Metropolitan Museum of Art in New York; and at the Museum of Lifestyle & Fashion History in Florida.
Hattie Carnegie jewelry is highly sought after and can be easily identified by her signature hallmark. Most jewelry I have come across is signed on a cartouche.
This is the mark that was used during the period 1950 to 1979. Pieces prior to this period are extremely rare and are stamped with the stamp shown below where her initials are directly pressed into the piece.
Here are several examples of Hattie Carnegie jewelry that our team Vintage Vogue stock. You can admire the superb quality, the imaginitive designs and the wonderful attention to detail in these pieces.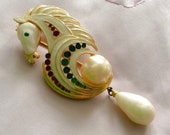 Courtesy of OurBoudoir www.etsy.com/shop/OurBoudoir
An awesome brooch for the horse lover. Hattie Carnegie has captured the nobility of this
magnificent animal in this figural piece. Two faux baroque pearls represent the head and lower body of this tremendous brooch/pendant with an additional faux pearl for its tail. On the body there are white enamel bands rimmed elegantly with raised gold toned metal. There are various red and green poured glass stones across the beast to bejewel him. The mane is especially well represented with the white enamel arched pieces running in a contra flow to the rest of the brooch. On the back of the pin there is a long diagonal rollover c clasp. and a bail for a pendant. This would make the most awesome necklace. Signed Hattie Carnegie on a cartouche
.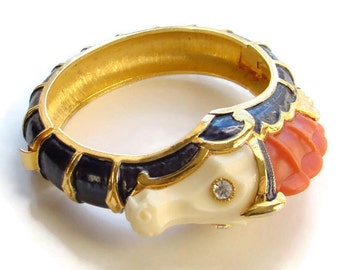 Courtesy of RedRoseLady www.etsy.com/shop/RedRoseLady
A Vintage Hattie Carnegie Seahorse or Dragon Clamper Bracelet featuring thermoplastic, gold tone, rhinestones and textured enamel. The bracelet is signed Hattie Carnegie with the copyright symbol within an oval cartouche on the inside. The enamel and shiny gold tone are in excellent condition. The bracelet open wide in order to get it on and snaps tightly. The
bracelet is in an oval shape and measures 7" across the inner diameter. The condition is excellent.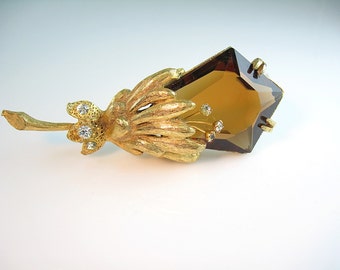 Courtesy of BohemianTrading www.etsy.com
This stunning large floral fantasy brooch has an incredible kite shaped smoky topaz colored glass stone as its focal point. The gold tone setting is brushed Russian gold, and is delicately detailed. The feature stone makes a statement, and it is contrasted with the use of tiny clear rhinestones set as "trembling" anthers, and accented by three larger rhinestones across the base of the flower.
The brooch is marked "Hattie Carnegie" in script on an oval plaque. It also has its original paper tag with written inventory information on the back. It is in near mint condition with all of the plating bright. C. 1960's. A bold and beautiful statement brooch.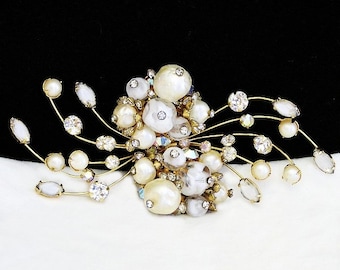 Courtesy of AgedandOpulentJewels www.etsy.com
The textured gold tone setting is lavishly covered with dimpled
ivory color synthetic pearls set with rhinestone head pins. There are white
givre glass beads (they look pale gray in the pictures) and prong set clear rhinestones throughout the set.The brooch is large and makes quite a statement.
This set is in very good condition with only one pearl showing wear on the side, signed Hattie Carnegie on back. Very sparkly and elegant.
These jewels were of course designed to accompany the exquisite elegant clothes of the early 20th century, that Hattie designed.
There are a couple of dresses available on Ruby Lane, but I wanted to share the sheer beauty of the following "museum" quality evening gowns.
Courtesy of Smithsonian's History Explorer Museum, the dress was donated by Mrs. Patterson, the daughter of Charles A Tilt of Chicago's Diamond T Motor Car.
Courtesy of Dividing Vintage Moments Blog Spot